How does one astronaut on the moon tell another astronaut that he is sorry?
...he Apollo-gises.
This July, Dragonfly Books has been featuring books about the US moon landing of Apollo 11. Check out some of our favorites below!
PS: Do you love the giant rocket as much as we do? Huge thanks to Cardboard Robot for building it for us out of - you guessed it - cardboard. Make sure to stop in and see all the cool things they have!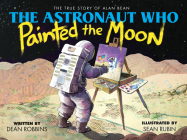 $17.99
ISBN: 9781338259537
Availability: On Our Shelves Now
Published: Orchard Books - May 28th, 2019
Journey to the moon on the Apollo 12 mission with Alan Bean, the fourth astronaut to walk on the lunar surface and the only artist to paint its beauty firsthand!

---

$14.95

ISBN: 9781780677576

Availability: On Our Shelves Now

Published: Laurence King Publishing - February 23rd, 2016

Climb up to the moon with this amazing fold-out coloring book, the longest in the world!

Color an amazing tower, all the way from your house down on the ground, past dragons, witches, space ports, and flying elephants, to reach the moon at the very top!

Grab your pens and let's get going! Can you climb all the way to the moon? Hours of fun for coloring enthusiasts of all ages.

---

$17.99

ISBN: 9780399246210

Availability: Not On Our Shelves. Usually arrives in 2-6 business days

Published: G.P. Putnam's Sons Books for Young Readers - September 7th, 2006

More than anything Hedgie wants to be an astronaut and travel into space.

---

$16.99

ISBN: 9781585363964

Availability: On Our Shelves Now

Published: Sleeping Bear Press - March 15th, 2018

Winner 2019 Nebraska Book Award

Retired astronaut Clayton Anderson takes readers on an A to Z flight through the alphabet from astronaut and blastoff to spacewalk and Zulu Time. Topics cover the history of NASA, science, and practical aspects of being an astronaut using fun poems for each letter paired with longer expository text in the sidebars.

---