Marley Kaul & Taiju Geri Wilimek: WE SIT
Date:
Thursday, April 4, 2019 - 7:00pm
---
Dragonfly Books presents poet Taiju Wilimek and illustrator Marley Kaul with their book We Sit. A unique collection of art and poetry, We Sit is a meditation on life and death. Everyone is invited to this free author talk to hear about Wilimek and Kaul's experiences and learn more about We Sit on Thursday, April 4 at 7:00 PM at Dragonfly Books.
---
Marley Kaul and Geri Wilimek have been bringing contemplative practice into conversation for decades. Kaul meditates in his painting studio, practicing the centuries old art of egg tempera on wood panels. Wilimek meditates on a cushion in zazen, the core practice of "non doing" in traditional Soto Zen. Through years of conversation Kaul and Wilimek have discovered delightful commonalities in their individual practices.
More than a book, We Sit is an art object. Kaul and Wilimek have created an intimate contemplation of their work as individuals as well as the dynamic dialogue of their conversations.
Artist Marley Kaul was born and raised on a farm in Good Thunder, MN. His rural upbringing allowed for observation of all living things, gaining insights about death, birth, growth, and family beliefs. He earned a Master of Fine Arts at the University of Oregon, and taught painting and drawing at Bemidji State University. Kaul began meditation in graduate school, which resurfaced in a new way recently when a medical diagnosis forced him to confront his mortality. The series of 20 egg tempera paintings included in We Sit were completed in less than a year.
Taiju Geri Wilimek is a Clinical Social Worker with degrees in Philosophy and Social Work. However she has been most influenced by her everyday life -- becoming a mother, raising two daughters with her husband, and forming soulful friendships. In her early 40's, Wilimek was diagnosed with breast cancer. "Giving birth and facing death have been the most physically challenging and mind-clarifying experiences of my life," says Wilimek. Writing poetry has been a lifelong practice for Wilimek to explore being human. We Sit brings Wilimek's contemplative practice into the space of shared reflection.
Everyone is invited to join Dragonfly Books for this free event on Thursday, April 4 at 7:00 PM. If you find that you can't make it to the event but would still like to purchase a book, just give Dragonfly Books a call at 563-382-4275. One of our staff will be glad to reserve a book and have it autographed for you.
This event is sponsored by Dragonfly Books at 112 W. Water St., Decorah and is free and open to the public.
---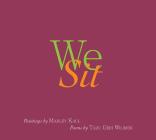 $20.00
ISBN: 9781732389403
Availability: On Our Shelves Now
Published: Mill Studio Press - August 16th, 2018
---
Event Requests
---
If you are interested in scheduling an event, contact our Events Coordinator using our Event Request Form.