Arthur Geisert book launch: PUMPKIN ISLAND in Elkader, IA
Date:
Saturday, October 27, 2018 - 11:00am
Join us for a special book launch celebrating PUMPKIN ISLAND, the latest picture book from the highly-esteemed, longstanding picture book maker, Arthur Geisert!

ABOUT ARTHUR:

Arthur didn't grow up in the Midwest. Rather, he originally hails from Los Angeles, where he grew up and eventually studied at the Otis College of Art and Design. Best known for his inventive books featuring pigs, he's never lived on a farm and didn't even see his first pig until he was an adult and living in Iowa. A master of the art of copper plate etching, Arthur has published more than thirty picture books using this traditional method of printmaking. His work has been featured in The New Yorker and in exhibits at the The Art Institute of Chicago, Figge Art Museum, Cedar Rapids Museum of Art, Dubuque Museum of Art, and regularly in the Society Of Illustrators' annual Original Art shows. Three of his books have been honored as The New York Times Best Illustrated children's books, including ICE, published by Enchanted Lion in 2011.

WHEN: Saturday, October 27th from 11am – 5pm
WHERE: Arthur's Studio — 116 N Main Street, Elkader, Iowa (...look for the unruly pumpkins...)

Come! Take a tour of Arthur's incredible studio and linger over a showcase of PUMPKIN ISLAND in progress, from early sketches, to copper plates, to original prints. Arthur will be signing books from the back deck, which overlooks the Turkey River and a little rock island in the middle of it—the exact vista that sparked his imagination and this story.

In 2013, our book launch for THUNDERSTORM drew more than 500 people, many of whom crossed state lines to celebrate Arthur with us in his small town of 98. It was also the first book launch to be covered by NPR.

This, friends, is an unmissable event if there ever was one. We hope you'll make the pilgrimage to Elkader with us.

Bonus: It's peak fall foliage season in Iowa that weekend...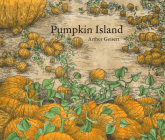 $17.95
ISBN: 9781592702657
Availability: On Our Shelves Now
Published: Enchanted Lion Books - November 6th, 2018
Drawn from life, Arthur Geisert's Pumpkin Island is the fantastical story of a real life town brought to a halt by a profusion of pumpkins.
---
Event Requests
---
If you are interested in scheduling an event, contact our Events Coordinator using our Event Request Form.