Story Time with Jacqueline Briggs Martin, Claudia McGehee, and Mike Osterholm!
Date:
Saturday, June 3, 2017 - 10:30am
---
Date: Saturday, June 3
Time: 10:30 AM
Location: Dragonfly Books
Cost: Free!
ALL AGES!
---
Dragonfly Books is excited to host a special story time and author talk for the Children's book Creekfinding. Creekfinding author Jacqueline Briggs Martin and illustrator Claudia McGehee will lead a story time, and special guest Michael Osterholm will answer questions about his real-life creek mystery. Children, parents, and adults are all invited to learn more about Creekfinding on Saturday, June 3 at 10:30 am at Dragonfly Books.
Creekfinding tells the true story of a man named Mike who went looking for a creek long after it had been buried under fields of corn. It is the story of how a creek can be brought back to life and, with it, a whole world of nature. Beautifully told with the words of Caldecott Award-winning author Jacqueline Briggs Martin and enchanting pictures of Claudia McGehee, Creekfinding will charm and inform young readers who are drawn to a good mystery, the wonders of nature, and of course, big earth-moving machines.
Jacqueline Briggs Martin has written more than fifteen picture books, including Snowflake Bentley, Farmer Will Allen and the Growing Table, and Alice Waters and the Trip to Delicious.
Claudia McGehee is the illustrator and author of several picture books including A Tallgrass Prairie Alphabet, A Woodland Counting Book, and My Wilderness: An Alaskan Adventure. Most recently, she illustrated North Woods Girl.
Michael Osterholm is an internationally renowned epidemiologist and author of Deadliest Enemy: Our War Against Killer Germs. He lives in Northeast Iowa where he serves on the Board of Regents at Luther College and, occasionally, uncovers long buried creeks on his land.
Everyone is invited to join Dragonfly Books with Jacqueline Briggs Martin, Claudia McGehee, and Michael Osterholm on Saturday, June 3rd at 10:30 am. If you find that you can't make it to the event but would still like to purchase a copy of Creekfinding, just give Dragonfly Books a call at 563-382-4275. One of the Dragonfly Books staff will be glad to reserve a book and have it autographed for you.
This event is sponsored by Dragonfly Books at 112 W. Water St., Decorah, and is free and open to the public. To learn more about this and other events at Dragonfly Books, please visit www.dragonflybooks.com, or contact us at events@dragonflybooks.com or 563-382-4275.
---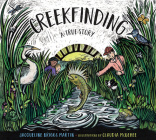 $16.95
ISBN: 9780816698028
Availability: On Our Shelves Now
Published: University of Minnesota Press - March 7th, 2017
Once upon a time a creek burbled up and tumbled across a prairie valley. It was filled with insects and brook trout that ate them, frogs that chirruped and birds watching for bugs and fish. This is a true story about a man named Mike who went looking for that creek long after it was buried under fields of corn.
---