Fracture: Essay Poems, and Stories on Fracking in America (Paperback)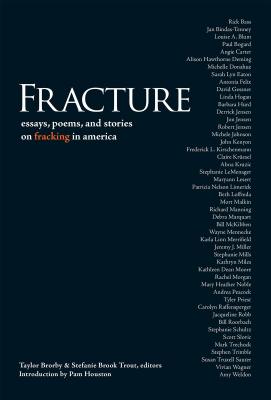 Description
---
This book bears witness to hydraulic fracturing in the United States. Fracture: Essays, Poems, and Stories on Fracking in America brings together the voices of more than fifty writers exploring the complexities of fracking through first-hand experience, investigative journalism, story-telling, and verse. At a time when politics and profits inhibit our ability to have meaningful discussions about the hazards of fracking, these creative perspectives are needed to ignite the national conversation about how we can live with more compassion toward Earth.

In the tradition of Wallace Stegner's This is Dinosaur, Terry Tempest Williams and Stephen Trimble's Testimony, and Rick Bass and David James Duncan's The Heart of the Monster, Fracture braids together poetry and prose that helps us envision a new course for energy development. Fracking diminishes the habitability of our world. This first-of-its-kind anthology exposes fracking's effects on local communities as well as its global impacts—flares fueling climate change, oil spills into waterways, earthquakes deep below Earth's surface. Fracking has changed the national political conversation, and so will this powerful book.
Here are the contributors for the anthology which also includes an introduction by Pam Houston
Rick Bass
Jan Bindas-Tenney
Louise A. Blum
Paul Bogard
Angie Carter
Alison Hawthorne Deming
Michelle Donahue
Sarah Lyn Eaton
Antonia Felix
David Gessner
Linda Hogan
Barbara Hurd
Derrick Jensen
Jon Jensen
Robert Jensen
Michele Johnson
John Kenyon
Frederick L. Kirschenmann
Claire Kruesel
Ahna Kruzic
Stephanie LeMenager
Maryann Lesert
Patricia Nelson Limerick
Beth Loffreda
Mort Malkin
Richard Manning
Debra Marquart
Bill McKibben
Wayne Mennecke
Karla Linn Merrifield
Jeremy J. Miller
Stephanie Mills
Kathryn Miles
Kathleen Dean Moore
Rachel Morgan
Mary Heather Noble
Andrea Peacock
Tyler Priest
Carolyn Raffensperger
Jacqueline Robb
Bill Roorbach
Stephanie Schultz
Scott Slovic
Mark Trechock
Stephen Trimble
Susan Truxell Sauter
Vivian Wagner
Amy Weldon

About the Author
---
Taylor Brorby received his M.A. in Liberal Studies from Hamline University in 2013, and is currently pursuing his M.F.A. in Creative Writing and Environment at Iowa State University. Taylor's work has appeared in Orion Magazine, Rock, Paper, Scissors, The Englewood Review of Books, the Northern Plains Ethics Journal, and many others. Also, his work is forthcoming in the anthology Kissing in the Chapel, Praying in the Frat House: Wrestling with Faith and College. Taylor has been awarded grants from Hamline University, St. Olaf College, Iowa State University, and the North Dakota Humanities Council. He has held residencies at Holden Village, St. Olaf College, and St. John's University. He has been interviewed about his work as a writer and environmentalist on North Dakota Public Radio and National Public Radio. Taylor is currently writing Vespers 2014: A Vespers for Climate Change and his chapbook of poetry, Ruin: Elegies from the Bakken, is forthcoming from Red Bird Chapbooks. He is a blogger for The Huffington Post, where he writes on education and environmentalism, a contributing editor for The EcoTheo Review, a contributing editor at Assay: Journal of Nonfiction Studies, a reviewer of books for The Englewood Review, of journals for Review Review, as well as book review editor at Orion Magazine.

Stefanie Brook Trout is a native Michigander and writer of all genres. Her work explores the dynamic interactions between people and their surroundings—including social and built environments as well as the ecosphere. She is an editor of Ice Cube Press's Prairie Gold: An Anthology of the American Heartland (2014) with Lance Sacknoff and Xavier Cavazos and Fracture: Essays, Poems, and Stories on Fracking in America with Taylor Brorby, forthcoming February 14, 2016. Stefanie was an Environmental Writing Fellow at the Iowa Lakeside Laboratory and received her Master of Fine Arts in Creative Writing and Environment from Iowa State University. She also has a Master of Arts in Teaching from Marian University in Indianapolis and a Bachelor's from the University of Michigan in Ann Arbor, where she focused on history and the environment. She currently teaches in West Michigan. Learn more at: stefaniebooktrout.com

Pam Houston's most recent book is Contents May Have Shifted, published in 2012. She is also the author of two collections of linked short stories, Cowboys Are My Weakness and Waltzing the Cat, the novel, Sight Hound, and a collection of essays, A Little More About Me, all published by W.W. Norton. Her stories have been selected for volumes of Best American Short Stories, The O. Henry Awards, The 2013 Pushcart Prize, and Best American Short Stories of the Century. She is the winner of the Western States Book Award, the WILLA award for contemporary fiction, The Evil Companions Literary Award and multiple teaching awards. She directs the literary nonprofit Writing By Writers, is professor of English at UC Davis, teaches in The Institute of American Indian Art's Low-Rez MFA program, and at writer's conferences around the country and the world. She lives on a ranch at 9,000 feet in Colorado near the headwaters of the Rio Grande.
Praise For…
---
"Symphonic in form, euphoric in heart, this volume brings together a great, sometimes-desperate chorus that ought to be heard world-over, wherever there is oil and gas-rich shale below, and living things above. The politics and economics of fossil fuels has never been a pretty thing, but the ingenious barbarity of fracking against a vulnerable and increasingly debauched planet, may be the ugliest of all extractive methods. From memory to musings, in facts and fictions, in reason and rhyme, these assembled pieces offer acutely aware and knowledgeable perspectives on a disastrously flawed practice. Listen before it's too late." — Lynn Stegner, author of five works including Because a Fire Was in My Head

"This stunning collection of essays, poems, and fiction is gripping and illuminating. The implications of fracking on our land, air, water, and human communities are powerfully evoked. Indeed, no where else has such a gifted group of writers been assembled for a clarion call to awakening for our future generations."–Mary Evelyn Tucker, Co-director of the Forum on Religion and Ecology at Yale, Co-author, Journey of the Universe

"As you read these words, a shudder of the earth in Oklahoma might be knocking a book off a shelf in a family's home; and if it's night, the Bakken oil field is burning waste fuel in such quantities, it shows up in satellite photos bright as a major city. Between earthquake and nightfall, all our lives take place, at home within the world our being-at-home threatens. Fracture–this collection of essays, poems, stories–enters into the profound dilemma of our appetite for energy–not to argue the obvious points, not to rant or rave, but witness and speak about the daily-ness of our life, to call us all back to keener attention, a focus which reminds us that underneath the political fray human lives go about their deepest work: living, loving, tending carefully to the world that tends also to them. Taylor Brorby and Stefanie Brook Trout have gathered together voices that burn brighter than the refinery flame. It's a light we must learn to see by. In it is that age old encouragement to live a good life, one connected to land and to people, one that cares past immediate needs, out to the longer ethic that envelopes those lives still to come in its generous light."–Dan Beachy-Quick, is the author of five books of poetry, including Circle's Apprentice

"Frack. Fracking. Fracked. How should we think about fracking? What should we feel? How can we imagine fracking and its aftermath, its alternatives? The courageous voices in this landmark collection confront this foolhardy technology and fortify our will to fight it."–Cheryll Glotfelty, professor of English at the University of Nevada, Reno

"If you called the roll of those you wanted to hear from on fracking, the writers gathered here would be it. Their varied angles of vision and genre yield a rich treatment."–Larry Rasmussen, Reinhold Niebuhr Professor Emeritus of Social Ethics, Union Theological Seminary, New York City

"If you are looking for information on fracking, you will find it here–but that is only the beginning. These brilliant voices remind us that our responsibility to the Earth runs beneath the surface-place we normally occupy, leading us on an Orphic journey that extends the depths of our knowledge, our compassion, and our capacity for meaningful action. This is not just another literary anthology–it is an urgent act of witness."–John T. Price, editor of The Tallgrass Prairie Reader

"Fracture is a remarkable and remarkably important collection that addresses one of North America's most critical environmental issues: hydraulic fracturing. From the beautiful but urgent essays by writers such as Barbara Hurd and Kathleen Dean Moore to the searing poetry of Wayne Mennecke and Linda Hogan, this deep collection is essential reading for those passionate about place. And it should be required reading for policymakers across the land."–Simmons Buntin, Editor-in-Chief, Terrain.org: A Journal of the Built + Natural Environments

"One imagined that the energy industry would find ways to dig deep enough and find forms of pressure strong enough to force the last crushed history of the earth's vegetation up out of the earth, into refineries, and then into combustion engines, and then into the atmosphere, but most of us had not imagined they would do so by risking the pollution of the world's deep aquifers, finding a way to foul air and water in a single technology. It requires a seismic response from the human imagination: this anthology is doing that work."–Robert Hass, Poet Laureate of the United States from 1995 to 1997

"Fracking is the latest curse imposed upon the Earth by industrial civilization. Fracking permits the energy industry to tap formerly inaccessible sources of oil and gas, which, when burned, accelerates CO2 emissions contributing to global warming, not to mention the very act of fracking fragments wildlife habitat, pollutes air and water, and by degrading the land diminishes our natural hertiage. It is another nail in the coffin of Mother Earth. This anthology helps us acknowledge the perils of fracking so that we might build a world of hope for future generations."–Douglas R. Tompkins, Foundation for Deep Ecology, and Tompkins Conservation

"A high law of morality requires us to protect that miraculous skin featuring our soils, our waters, our forests, our prairies, our oceans, our agricultural fields and our atmosphere. Unfortunately, it is legal to rip the tops off mountains for coal, legal to drill for oil and natural gas—from the Gulf to the Arctic. And now, fracking. Here are 50 authors eloquently addressing this latest insanity, knowing that it is philosophically embedded in the larger destructive legal. This IS a clarion call for action."—Wes Jackson, President, The Land Institute

"Fracture is a collective cry of the heart by writers of all sorts from throughout the USA that achieves its extraordinary cumulative power through a combination of cogent on-the-ground narratives, poems and short stories that ultimately tell the same tale in different ways: the poisoning of our bodies and the brutal rape of Mother Earth."–Bruce Joshua Miller, editor, Curiosity's Cats: Writers on Research