The Complete Beginner's Guide to Raising Small Animals: Everything You Need to Know about Raising Cows, Sheep, Chickens, Ducks, Rabbits, and More (Back to Basics Farming) (Paperback)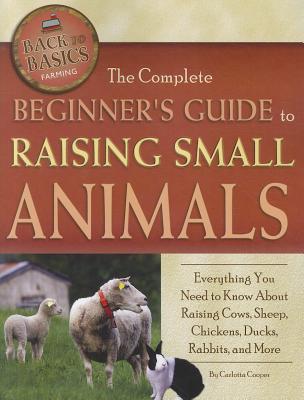 Description
---
Domesticated small animals, from the cow to the rabbit, have been enjoyed by human owners around the world since the dawn of civilization nearly 12,000 years ago. From pets to beasts of burden and even just a friendly face in the barn, animals like these produce thousands of products you use around the house every day and can be a great addition to your home, property, or small farm. For anyone looking to raise such animals, though, the realities of their new furry and feathery companions can be jolting from the care they need on a regular basis to the food they eat.
This book was written for anyone considering raising domesticated animals for family pets, producers of eggs and milk, or a source of humanely treated meat. You will learn how to care for chickens, from choosing the right breed to raising them for egg production. You will learn how to handle geese and ducks and information about choosing the correct breeds, feeding, housing, breeding, and selecting the right ones for egg production. You will also learn about egg incubation, maintaining poultry health, and how to raise them for meat. Other animals you will learn how to care for include rabbits, goats, sheep, dairy cows, and beef cattle.
Small farmers and animal experts have been interviewed in detail and their responses added to this book to provide additional insight into every aspect of raising farm animals. This includes details about how to purchase, house, feed, breed, record, and butcher animals of all types as well as how to gather milk, use goats and cows for maintaining your fields, and even keeping records of births and selling babies. Everything you need to know about raising small animals for your farm is included in this guide to provide you the first steps to raising domesticated poultry and livestock.
Atlantic Publishing is a small, independent publishing company based in Ocala, Florida. Founded over twenty years ago in the company president's garage, Atlantic Publishing has grown to become a renowned resource for non-fiction books. Today, over 450 titles are in print covering subjects such as small business, healthy living, management, finance, careers, and real estate. Atlantic Publishing prides itself on producing award winning, high-quality manuals that give readers up-to-date, pertinent information, real-world examples, and case studies with expert advice. Every book has resources, contact information, and web sites of the products or companies discussed.

About the Author
---
Carlotta Cooper was born and raised in Tennessee. Her grandparents were farmers, and she grew up with horses, dogs, and other animals. Her family raised chickens, ducks, geese, other poultry, rabbits, and pigs. She attended the University of the South in Sewanee where she graduated with a B.A. in English as class Salutatorian. She attended graduate school at the University of Virginia, studied English literature, and did graduate work in writing and rhetoric at the University of Tennessee at Chattanooga. Professionally, Carlotta is a freelance writer, specializing in writing about animals. She has been breeding and showing dogs for over 20 years and is a contributing editor for the dog show magazine Dog News. She lives in the middle of farm country in Tennessee now and writes about veterinary issues, animal reproduction, genetics, and raising and caring for animals."