Planet Kindergarten (Hardcover)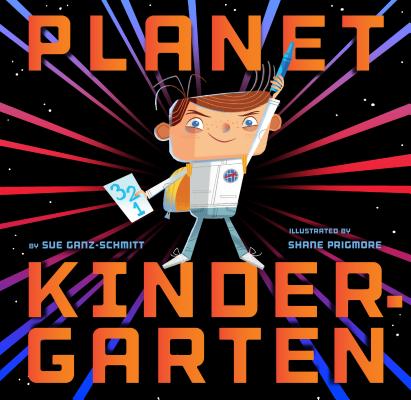 $16.99
Not On Our Shelves. Usually arrives in 2-6 business days
Description
---
A genius way to ease kids into the new adventure that is kindergarten."
--Kirkus Reviews, starred review

This clever picture book will prepare young explorers to boldly go where they have never gone before: Planet Kindergarten. Suit up for a daring adventure as our hero navigates the unknown reaches and alien inhabitants of this strange new world. Hilarious and confidence-boosting, this exciting story will have new kindergarteners ready for liftoff!
About the Author
---
Sue Ganz-Schmitt produces children's musical theater and is passionate about helping children and families globally. She lives in a rural mountain community near Los Angeles.

Shane Prigmore is an accomplished professional in the animation, film, and children's book industries. A two-time Annie Award winner for his design of LAIKA's Coraline, and Dreamworks' The Croods, Shane has also contributed his talents to such projects as: The LEGO Movie, The Boxtrolls, How to Train Your Dragon, The Lord of the Rings: The Two Towers, Foster's Home for Imaginary Friends, The Iron Giant, and the Spaceheadz book series. Shane currently acts as the Vice President of Creative Affairs at Disney Television Animation, and resides in Los Angeles, California, with his wife and two children.
Praise For…
---
"A genius way to ease kids into the new adventure that is kindergarten."--Kirkus Reviews, starred review

"Will help readers understand that kindergarten really is out of this world."--School Library Journal

"Visual excitement and madcap humor."-The New York Times

"This sequel is an (inter)stellar addition to the one-hundredth-day-of-school shelf."--The Horn Book Guide

"The inventive approach of both author and artist will give anxious children a creative way of looking at their new experiences, as explorers of a new frontier."--Shelf Awareness

"The first day of class takes on the dimensions of a cosmic mission in this imaginative tale."--BookPage

"Sure to comfort and amuse many a new space traveler and the grateful teachers who will read this aloud over and over."--The Horn Book

"Planet Kindergarten is the most imaginative book I have seen about starting school."--Kid Lit Reviews

"Kindergarten isn't just a grade-it's a destination."--Publishers Weekly

"Gives anxious children a creative way of looking at their new experiences, as explorers of a new frontier."--Jenny Brown, Twenty by Jenny

"Demystifes the brave new world of kindergarten, making this mission a stellar success."--School Library Journal Curriculum Connections

"Both kids and parents will delight in the cheerful exuberance of Prigmore's style!" -Maureen Palacios, Once Upon a Time, Montrose, CA