Original Fake (Hardcover)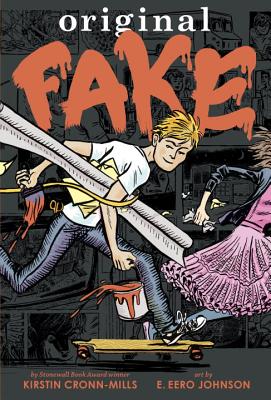 Description
---
In this Banksy-inspired illustrated novel, an escalating sibling rivalry train wrecks and vengeance is a street-art act of war

Introvert Frankie Neumann hates his life, and understandably so. He's got a weird, tutu-wearing sister, Lou, and even weirder parents, Bridget and Brett—Frank Sinatra and Dr. Frank-N-Furter impersonators, respectively. And, he's just the guy who makes pizza at Pizza Vendetta. Though he has secret artistic aspirations of his own, his over-the-top family makes him want to stay in the background. But Frankie's life is about to change—becoming way more interesting, even a little dangerous, but definitely cool.

After his shift at the pizzeria one night, Frankie meets David and Rory, cousins and errand runners for the mysterious Uncle Epic, a legendary anonymous street artist and Frankie's absolute idol. Little could Frankie dream that his new adventures with Uncle Epic would lead to the perfect opportunity to strike back at his insufferable sister for a lifetime of torture. But things go haywire quicker than you can say "street art kicks righteous ass," and the lines are suddenly blurred between art and Frankie's real life.
About the Author
---
Kirstin Cronn-Mills is a self-proclaimed word nerd who secretly wants to be a street artist. Her first young adult novel, The Sky Always Hears Me and the Hills Don't Mind, was a 2010 finalist for the Minnesota Book Award for Young People's Literature. Her second novel, Beautiful Music for Ugly Children, won ALA's Stonewall Award in 2014 as well as an IPPY silver medal for Gay/Lesbian/Bi/Trans Fiction. She writes a lot, reads as much as she can, teaches at a two-year college, and goofs around with her son, Shae, and her husband, Dan.
 
E. Eero Johnson (Erik T. Johnson) is a Minneapolis-based illustrator, graphic designer, and comic book artist. His illustrations have appeared in GQ, The New Yorker, Newsweek, Wired, and The New York Times, and on several book covers. His comic book projects, The Outliers and Kozmo-Knot, have gained a growing interest from the indie comic world. He lives with his wife, Tammy, sons, Emmett and Eilif, and a crazy Boston terrier.
Praise For…
---
Praise for Original Fake:

★ "A whirlwind of a novel… Johnson's bold black and orange illustrations spotlight key plot points and emotions… Cronn-Mills's consideration of the intersections between art and family is striking and heartfelt."—Publishers Weekly, starred review 

"Peppered with engaging comic book–style panels, Cronn- Mills' off-the-wall art caper offers insight into a brash, up-and-coming corner of the art world, with a refreshing matter-of-fact acceptance for unconventional choices."—Booklist 
 
"[A] distinctive, smart novel."—Kirkus Reviews 

"[The] plot is great fun, but additional pleasure can be found in the details; both Cronn-Mills' prose and Johnson's interspersed graphic sequences play up the sense of a life committed to artistic hyperbole."—BCCB 
 
"With a sharply funny teenage voice, graphic panels bursting with life, and a cast of characters as irrepressible as Uncle Epic himself, Original Fake is 100% original: a subversive and timely story of the power of art."—Kate Hattemer, critically acclaimed author of The Vigilante Poets of Selwyn Academy
 
"Original Fake manages to be grounded and trippy, thoughtful and tense, personal and epic. What a good family we meet. What a great art adventure we go on. And, also, what? It has pictures!"—Geoff Herbach, author of the award-winning Stupid Fast series