The City Stained Red (Bring Down Heaven #1) (Paperback)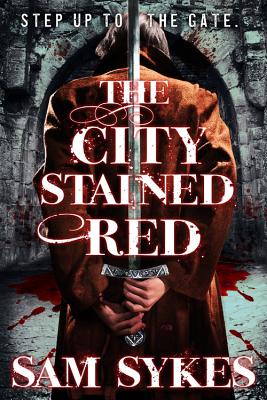 Description
---
After years in the wilds, Lenk and his companions have come to the city that serves as the world's beating heart.
The great charnel house where men die surer than any wilderness.
They've come to claim payment for creatures slain, blood spilled at the behest of a powerful holy man.
And Lenk has come to lay down his sword for good.
But this is no place to escape demons.
About the Author
---
Sam Sykes is the author of the acclaimed Tome of the Undergates, a vast and sprawling story of adventure, demons, madness and carnage. He lives in Arizona. He once punched an ostrich. What a great guy.
Praise For…
---
"Action fantasy with soul-albeit a small, dirty, funny soul."—Brent Weeks

"Insouciant, unrepentant and irrepressible adventurers in a powder keg of a city. And that's just how the story begins."—Robin Hobb

"Sykes has put the fun back in fantasy with fantastical creatures and a lovable crew of malcontents. The City Stained Red is like David Eddings meets Conan the Barbarian."—Brian McClellan, author of Promise of Blood

"Sam Sykes continues to reinvent the fantasy adventuring party in a vibrant world of rude magic and good intentions gone bad. Bold and exuberant, never cynical, Sykes fights the good fight on behalf of rich fantasy that nonetheless refuses to apologize for being kick-ass fun."—Scott Lynch

"Playful language, distinctly drawn characters, and a cavalcade of action."—SF Signal

"An entertaining blend of classic adventure and inventive inspiration."—Juliet E. McKenna, author of The Thief's Gamble

"Excitement, vivacity, and sly wit... simply impossible not to enjoy."—RT Book Reviews (4.5 Stars)

"This brash, prolific wordsmith has a natural eloquence that grabbed my attention and refused to let go."—Locus