Simple Prosperity: Finding Real Wealth in a Sustainable Lifestyle (Paperback)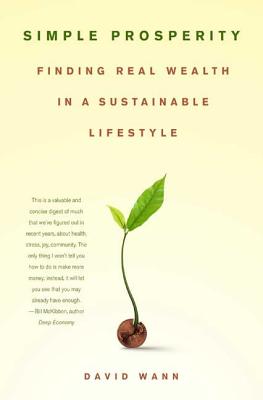 Description
---
In his bestseller Affluenza, David Wann and his co-authors diagnosed the debilitating disease of over-consumption. In Simple Prosperity he shows readers how we can overcome this disease by investing in a variety of real wealth sources. To recapture a more abundant and sustainable lifestyle, try:
- Creating a richer life story through personal growth incentives
- Forming higher-yield friendships and stronger bonds through social capital
- Taking preventive healthcare measures to build up wellness reserves
- Balancing the biological budget through "greener" currency
- Caring for people, not just cars, to improve your neighborhood wealth index
- Resolving that pesky carbon conundrum through energy savings
- Celebrating instead of desecrating! Cultural prosperity futures value the earth as a sacred place
In our age of hedge fund hysteria, Simple Prosperity is a new way of investing that will save our sanity and the planet.
About the Author
---
David Wann is the author of many books including The New Normal, Simple Prosperity: Finding Real Wealth in a Sustainable Lifestyle and the bestselling Affluenza, which he co-authored. He lives in Golden, Colorado.
Praise For…
---
"David Wann makes a compelling case that the current fiscal squeeze is really a good thing in Simple Prosperity. A coauthor of the best selling Affluenza, he covers a lot of solution-oriented ground, from conscientious consumption and cohousinig to building human-scale neighborhoods and dismantling the fossil fuel economy..." —Utne Reader
"This book is full of wisdom for real living; and it will help you find a kind of wealth that's woven right within the fabric of everyday life." —Sarah Susanka, author of The Not So Big Life: Making Room for What Really Matters
"We've reached a point in our planet's history when nothing less than fundamental change is needed. In his book Simple Prosperity, David Wann proposes that we move away from an obsession with material wealth to an abundance of time, relationships, and experiences." —Wendy Priesnitz, editor, Natural Life Magazine
"Simple Prosperity reads like a well-loved novel, engaging and educational. David Wann offers creative solutions to the challenges of over- consumption and makes it a thoroughly enjoyable read." —Jill Cloutier, Producer, Sustainable World Radio, KCSB
"This book can help you reassess your goals. Our overconsumptive lifestyle is out of sync with our real values, says David Wann, and we can find greater contentment by creating vibrant communities, right-sizing our homes, valuing our time, and nurturing our health." —Debra Jones, Sierra Magazine
"Living a life that is outwardly simple while inwardly rich could well be the great challenge of the 21st century. Wann provides an accessible road map." —Rebecca Jones, Rocky Mountain News
"Simple Prosperity outlines a different vision for American society. A society that focuses on wealth in community and health and love instead of monetary wealth. Simple Prosperity gives thought on HOW to take a step back from the massive amounts consuming and advertising and find your own brand of happiness." —A Deeper Green Blog
"I shut the back cover of Simple Prosperity: Finding Real Wealth in a Sustainable Lifestyle and slid it into my library bag. It was an interesting read: more affirming than eye opening, more a map than a book. Throughout Simple Prosperity, David Wann directs us along a road toward a more meaningful life - one that we build instead of buy. He points out the pitfalls, jots down directions to the scenic back roads and promises a worthwhile destination - a well-lived life." —Green Bean Dreams blog
"Wann poses a very provocative question: If the lifestyle we've been leading is making a mess of the environment, using up many of the world's resources and leaving us queasy as a culture, why not just move on to something else? The strongest feature of Simple Prosperity is its ability to direct us in understanding who we are and what we want, resulting in a greater sense of clarity and direction." —Bette Erickson, Boulder Daily Camera
"With some economic hard times erupting in addition to the environmental challenges that are beginning to hit the fan, here is a book that looks at the bright side of cutting back. With Simple Prosperity: Finding Real Wealth in a Sustainable Lifestyle, David Wann, co-author of Affluenza, wants to turn the American Dream on its head--from a focus on the accumulation of wealth to the dream of investing in things that really matter: communities. "social capital," wellness, and a better way of life. And all this works in tandem with cuttinig energy use, localizing our neighborhoods, and foregoing our dependence on fossil fuels." —Less is More Blog
"The idea that overconsumption is a fundamental problem, not solution, in the maintenance of a healthy economy and planet is not a new idea, but I've never heard it articulated so clearly and succinctly before as in Simple Prosperity - and it is already helping me to think about things in a new light." —Mark Wagner blog
"This is a valuable and concise digest of much that we've figured out in recent years, about health, stress, joy, community. The only thing it won't tell you how to do is make more money; instead, it will let you see that you may already have enough." —Bill McKibben, author Deep Economy
"Perhaps the highest compliment one writer can give another is 'I wish I'd said that!' David Wann has woven together all the right stuff to make a compelling and appealing case for the abundance of enough and the poverty of more. He stands firmly with one foot in the intimate details of daily life and the other in the shocking details of the degradation of healthy ecosystems and communities. Both the appeal of a better personal life and the horror of what will be upon us if we don't act should get us all on the Simple Prosperity bandwagon." —Vicki Robin, coauthor YOUR MONEY OR YOUR LIFE, cofounder CONVERSATION CAFES
"Dave Wann's recipes from his own experience in Simple Prosperity are a breath of fresh air, and just what we need for a saner future. They include ideas, sound research and down-to-earth advice we can all use. This book is also much more: a friendly, personal guidebook for living a more enjoyable, healthy, loving life." —Hazel Henderson, author, Ethical Markets: Growing The Green Economy
"If ever there was a right book at the right time, Simple Prosperity is it. This country needs this book." —Lester R. Brown, President, Earth Policy Institute, author of Plan B 2.0: Rescuing a Planet Under Stress and a Civilization in Trouble.